The idea for the Truck Series dates back to 1993. A group of SCORE off-road racers (Dick Landfield, Jimmy Smith, Jim Venable, and Frank "Scoop" Vessels) wanted a bigger audience for truck racing. They made a prototype for a NASCAR-style pickup truck. These were first shown off during the 1994 Daytona 500, and four demonstration races were held during the season. The first event at Mesa Marin Raceway had six trucks. The other three events were held at Portland Speedway, Saugus Speedway, and Tucson Raceway Park. Tucson Raceway Park held four events that winter, which were nationally televised during the Winter Heat Series coverage. These trucks proved to be extremely popular, and it led to NASCAR creating the series, originally known as the "SuperTruck Series", in 1995.

However, with the power of the NR2003 modding community, I am able to essentially re-write the entirety of the Truck Series' history. Can Hornaday, Skinner, and Sprague be dominant? Or will others throw their hat into the ring? The 1995 season is coming up.

1995 Schedule (self-made)
Phoenix
Daytona
Colorado Springs
Mesa Marin
Portland
Evergreen
Bristol
Milwaukee
Nashville
Michigan
Salem
IRP
Flemington
Richmond
Martinsville
Motor Mile
North Wilkesboro
Sonoma
Mesa Marin
Homestead
Last edited by Jacob E on Mon Jul 22, 2013 11:38 pm; edited 1 time in total
1995 Race 1: Phoenix

The bright Arizona sun shined down up the Phoenix International Raceway for the inaugural points paying NASCAR Craftsman SuperTruck Series race. Mike Skinner took the pole for Richard Childress Racing, and parlayed it into a dominating victory, leading 98 of 156 laps en route to victory. Joe Ruttman, in a truck owned by Ernie Irvan, led 51 laps, but could not catch Skinner for the victory.

Results
F S # DRIVER INTERVAL LAPS LED POINTS STATUS
1 1 3 M Skinner 85.418 156 98* 185 Running
2 3 84 J Ruttman -3.21 156 51 175 Running
3 6 75 B Sedgwick -5.21 156 0 165 Running
4 4 98 B Miller -5.97 156 0 160 Running
5 8 24 S Lagasse -6.98 156 0 155 Running
6 5 6 R Carelli -7.62 156 1 155 Running
7 18 2 M Bliss -16.93 156 0 146 Running
8 7 83 S Portenga -17.00 156 0 142 Running
9 16 31 G Balough -20.30 156 0 138 Running
10 9 30 D Setzer -20.41 156 0 134 Running
11 11 25 J Sprague -24.17 156 0 130 Running
12 28 94 M Simo -25.79 156 0 127 Running
13 25 54 S Mceachern -1L 155 0 124 Running
14 30 8 C Huartson -1L 155 0 121 Running
15 2 16 R Hornaday -1L 155 6 123 Running
16 21 58 W Jacks -1L 155 0 115 Running
17 33 88 J Churchill -2L 154 0 112 Running
18 27 14 J Kinder -2L 154 0 109 Running
19 17 07 D Rezendes -2L 154 0 106 Running
20 13 37 B Strait -2L 154 0 103 Running
21 22 20 W Evans -7L 149 0 100 Running
22 19 23 T Clark -41L 115 0 97 Accident
23 32 35 B Venturini -42L 114 0 94 Accident
24 29 10 S Fox -42L 114 0 91 Accident
25 24 87 J Nemechek -44L 112 0 88 Accident
26 20 81 J Glanville -46L 110 0 85 Gearbox
27 15 43 R Combs -47L 109 0 82 Accident
28 34 11 M Hurlbert -88L 68 0 79 Accident
29 23 74 G Collins -99L 57 0 76 Gearbox
30 12 90 K Wallace -120L 36 0 73 Retired
31 31 12 T Butler -134L 22 0 70 Accident
32 26 06 B Gilliland -134L 22 0 67 Accident
33 14 38 S Swindell -153L 3 0 64 Retired
34 10 1 M Chase -153L 3 0 61 Accident

Next Race: Inaugural SuperTruck 250 at Daytona
1995 Race 2: Daytona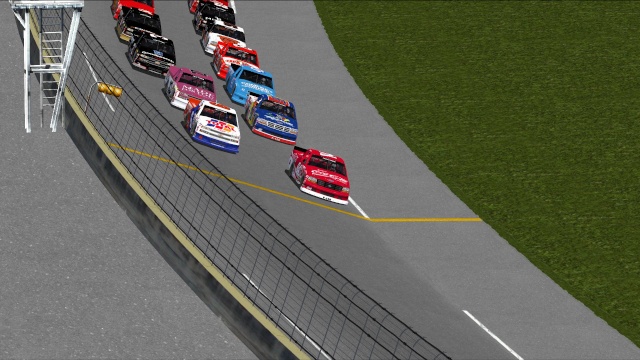 Joe Ruttman won the pole and led them down the frontstretch.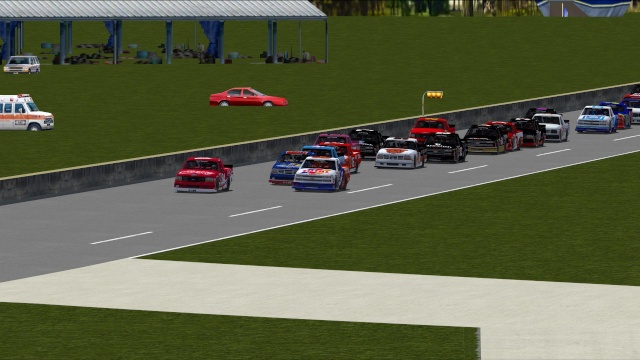 Rick Carelli pulls out the slingshot on lap one.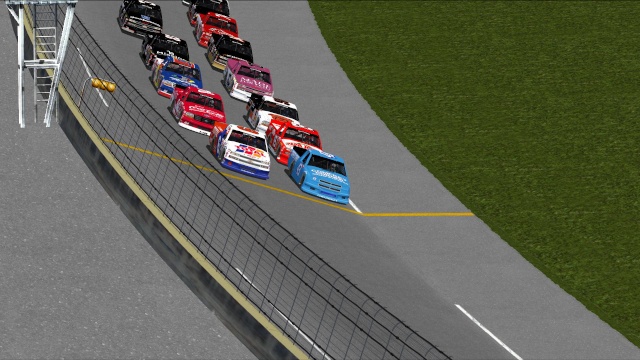 Rodney Combs in the 43 leads the first lap at Daytona.
...after a full day of green flag racing, it came down to Mike Skinner, Scott Lagasse, Kenny Wallace, and Bill Venturini.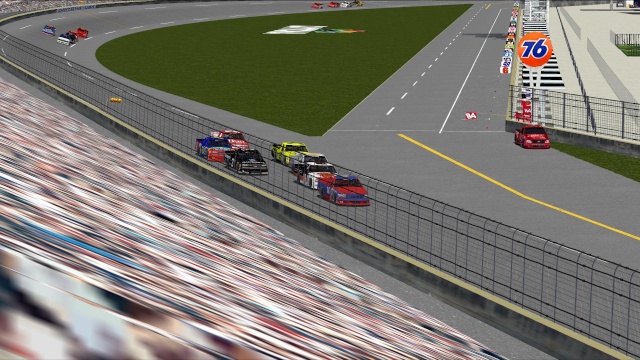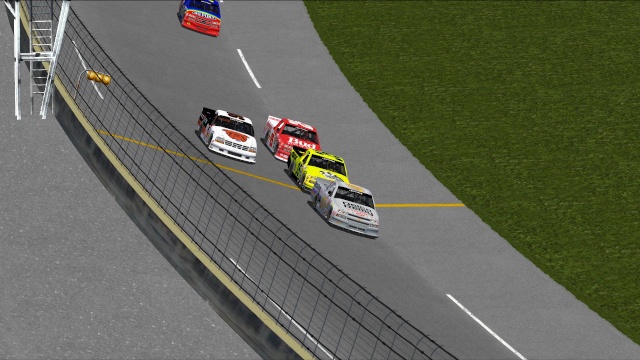 Bill Venturini, the ARCA regular, wins the inaugural Truck race at Daytona!
F S # DRIVER INTERVAL LAPS LED POINTS STATUS
1 29 35 B Venturini 200.247 100 4 180 Running
2 9 90 K Wallace -0.05 100 10 175 Running
3 16 24 S Lagasse -0.49 100 4 170 Running
4 14 81 J Glanville -0.74 100 3 165 Running
5 6 3 M Skinner -1.15 100 13 160 Running
6 3 98 B Miller -1.95 100 3 155 Running
7 19 12 T Butler -2.32 100 1 151 Running
8 13 74 G Collins -2.42 100 2 147 Running
9 23 30 D Setzer -2.60 100 2 143 Running
10 25 58 W Jacks -2.71 100 1 139 Running
11 30 06 B Gilliland -2.91 100 1 135 Running
12 21 94 M Simo -10.83 100 7 132 Running
13 20 07 D Rezendes -10.94 100 10 129 Running
14 31 38 S Swindell -12.08 100 16* 131 Running
15 18 2 M Bliss -12.16 100 0 118 Running
16 8 54 S Mceachern -12.23 100 1 120 Running
17 27 1 M Chase -12.32 100 1 117 Running
18 22 31 G Balough -29.56 100 2 114 Running
19 17 75 B Sedgwick -29.58 100 1 111 Running
20 24 23 T Clark -29.67 100 0 103 Running
21 4 10 S Fox -29.87 100 1 105 Running
22 2 6 R Carelli -36.91 100 3 102 Running
23 5 43 R Combs -37.06 100 4 99 Running
24 11 83 S Portenga -37.09 100 1 96 Running
25 32 20 W Evans -37.35 100 1 93 Running
26 28 8 C Huartson -37.47 100 0 85 Running
27 34 87 J Nemechek -46.27 100 0 82 Running
28 7 16 R Hornaday -1L 99 1 84 Running
29 10 88 J Churchill -1L 99 1 81 Running
30 12 11 M Hurlbert -1L 99 1 78 Running
31 15 37 B Strait -1L 99 2 75 Running
32 33 14 J Kinder -5L 95 1 72 Running
33 26 25 J Sprague -6L 94 1 69 Running
34 1 84 J Ruttman -62L 38 1 66 Engine
Race 3: Colorado National

F S # DRIVER INTERVAL LAPS LED POINTS STATUS
1 3 16 R Hornaday 68.552 200 64* 185 Running
2 6 3 M Skinner -1.08 200 8 175 Running
3 4 98 B Miller -2.16 200 46 170 Running
4 12 38 S Swindell -2.70 200 0 160 Running
5 8 37 B Strait -1L 199 0 155 Running
6 24 23 T Clark -1L 199 0 150 Running
7 11 30 D Setzer -1L 199 33 151 Running
8 14 83 S Portenga -1L 199 0 142 Running
9 2 75 B Sedgwick -1L 199 0 138 Running
10 9 1 M Chase -1L 199 0 134 Running
11 10 24 S Lagasse -1L 199 0 130 Running
12 20 20 W Evans -2L 198 0 127 Running
13 18 81 J Glanville -2L 198 0 124 Running
14 26 88 J Churchill -2L 198 0 121 Running
15 7 31 G Balough -2L 198 0 118 Running
16 34 35 B Venturini -2L 198 0 115 Running
17 22 43 R Combs -2L 198 0 112 Running
18 21 14 J Kinder -3L 197 0 109 Header
19 30 12 T Butler -3L 197 0 106 Running
20 19 07 D Rezendes -3L 197 0 103 Running
21 1 6 R Carelli -4L 196 0 100 Accident
22 33 94 M Simo -6L 194 0 97 Running
23 13 25 J Sprague -6L 194 0 94 Running
24 32 8 C Huartson -10L 190 0 91 Piston
25 5 84 J Ruttman -30L 170 49 93 Accident
26 31 06 B Gilliland -33L 167 0 85 Accident
27 15 87 J Nemechek -35L 165 0 82 Accident
28 29 10 S Fox -42L 158 0 79 Susp
29 27 11 M Hurlbert -62L 138 0 76 Accident
30 16 2 M Bliss -80L 120 0 73 Accident
31 25 74 G Collins -124L 76 0 70 Retired
32 28 54 S Mceachern -145L 55 0 67 Retired
33 23 58 W Jacks -147L 53 0 64 Accident
34 17 90 K Wallace -181L 19 0 61 Retired
Race 4: Mesa Marin

F S # DRIVER INTERVAL LAPS LED POINTS STATUS
1 7 3 M Skinner 75.162 200 61 180 Running
2 4 24 S Lagasse -3.64 200 46 175 Running
3 8 75 B Sedgwick -3.81 200 0 165 Running
4 10 37 B Strait -7.08 200 0 160 Running
5 17 81 J Glanville -7.39 200 0 155 Running
6 11 2 M Bliss -9.37 200 0 150 Running
7 24 90 K Wallace -9.86 200 0 146 Running
8 12 38 S Swindell -1L 199 0 142 Running
9 23 54 S Mceachern -1L 199 0 138 Running
10 31 35 B Venturini -1L 199 0 134 Running
11 29 07 D Rezendes -2L 198 0 130 Running
12 3 16 R Hornaday -2L 198 78* 137 Running
13 22 1 M Chase -2L 198 0 124 Running
14 32 8 C Huartson -2L 198 0 121 Running
15 18 87 J Nemechek -2L 198 0 118 Running
16 15 88 J Churchill -2L 198 0 115 Running
17 34 94 M Simo -2L 198 0 112 Running
18 21 83 S Portenga -2L 198 0 109 Running
19 9 25 J Sprague -3L 197 0 106 Running
20 13 11 M Hurlbert -3L 197 0 103 Running
21 27 23 T Clark -4L 196 0 100 Running
22 26 10 S Fox -9L 191 0 97 Running
23 30 12 T Butler -12L 188 0 94 Valve
24 14 20 W Evans -14L 186 0 91 Retired
25 33 06 B Gilliland -19L 181 0 88 Accident
26 1 31 G Balough -65L 135 2 90 Retired
27 25 43 R Combs -67L 133 0 82 Retired
28 28 14 J Kinder -68L 132 0 79 No Fuel
29 16 30 J Hensley -68L 132 0 76 Oil Leak
30 5 98 B Miller -80L 120 0 73 Clutch
31 6 6 R Carelli -83L 117 0 70 Tire
32 2 84 J Ruttman -101L 99 13 72 Retired
33 20 58 W Jacks -140L 60 0 64 Valve
34 19 74 G Collins -156L 44 0 61 Accident


Similar topics
---
Permissions in this forum:
You
cannot
reply to topics in this forum